May 11th, 2024 in Bonita Lakes Park (Boat Landing) - Meridian, MS

Information:
All participants will run a 4.6 Mile loop course from the Bonita Lakes boat landing around the big lake on the Jeep trail road. The only aid station is at the start of the loop, but we will have a UTV roving the course as the day wears on to offer assistance for anyone who may need a refill or medical assistance. We will provide food, drinks, snacks, GU and Tail Wind. All participants must bring a water bottle, hydration pack or some sort of container and we will provide the liquid. All participants are expected to bring wrappers and used gel pack and such back to the check point for disposal. Participants will build miles over the course of the event to achieve

milestone awards

. Once you achieve a milestone, you will get that award unless you achieve the next level milestone. As you collect milestones your award will grow and if you complete 64.4 miles in 12 hours, you will achieve Dragon level. If you achieve 14 laps in the 12 hours and wish to continue to set the longest distance record for the course (since this is the first year) you can continue to build your mileage. Although there is no level higher than Dragon, the longest distance for male and female will be awarded. Also, we will award the fastest loop by a male or female. Time

2

Run Race Timing will be recording splits for each lap.
Schedule of Events:
Friday May 10th Early Packet Pickup 4pm - 7pm at Bonita Lakes Park
Saturday May 11th Race Day Packet Pickup 5:00am - 5:55am. Race begins at 6am
Additional Information:
All participants will start at 6am. The course will remain open for 12 hours. At 6pm, the course will close. This event features a 4.6 mile loop with rolling and increasingly challenging hills over the course of multiple laps. There will be one aid station, at the Start/Finish location of each loop.
Runners must provide their own hydration bottle/container. Water and Tailwind will be provided by the organizers at the Start/Finish area to refill bottle/containers. All gel packs, wrappers and trash should be carried back to the Start/Finish area to be disposed in appropriate trash containers.
Food will be provided during the day as well as snacks and refreshments. This course is deceivingly hard if you run 1 loop. Each loop the difficulty will compound and eventually you will defeat it or the Dragon Loop will wear you out.
Pace yourself. The pace calculator says this can be achieved at an 11:11 mile pace. You can bank time early, but a miscalculation of pace early will be your undoing in the later stages of the race. You may want to slowly build through the day.
Patch:
The first 200 participants will receive the exclusive Circle Of The Dragon 12 Hr Endurance Run patch free. Additional patches will be available for purchase
Venue:
Bonita Lakes Park is a
picturesque

setting and the home of the Great Scorpion Trail Run. While this event will not be held on single track trails, you will enjoy easy footing and great views during your run.
Shirt:
Each runner will receive the official race shirt and swag bag.
Timing:
Each runner will be timed using RFID Chip Timing and each lap split will be recorded.
Awards:

While we welcome runners of all experience levels, this event is designed with the more experienced ultra runner in mind. All participants must complete 4 laps on the Dragon Loop to receive an award of any kind. To be eligible for for the fastest loop award, you will have to achieved the lowest milestone award, Rabbit. (See chat below how the levels of milestone awards can be achieved throughout the day.)
Complete the distance and collect all 6 milestones, and you will earn the topper for your award set and the right to stand in the Circle of The Dragon.
Open Division:

Longest Distance Male
Longest Distance Female
Fastest Loop Male (must reach at least Rabbit level to qualify)
Fastest Loop Female (must reach at least Rabbit level to qualify)
Milestone Awards:

Level 1: Rabbit - Participants completing 4 laps (18.4 Miles)
Level 2: Deer - Participants completing 6 laps (27.6 Miles)
Level 3: Hawk - Participants completing 8 laps (36.8 Miles)
Level 4: Wolf - Participants completing 10 laps (46 Miles)
Level 5: Bear - Participants completing 12 laps (55.2 Miles)
Level 6: Dragon - Participants completing 14 laps (64.4 Miles)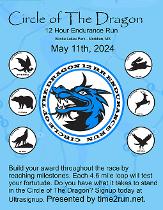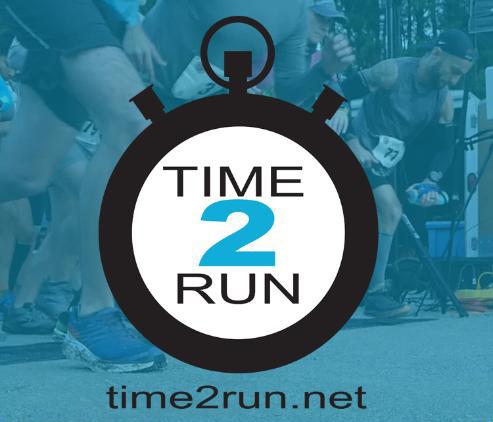 Copyright Time 2 Run Race Timing 2023