The Time2Run Trail Series includes these incredible trail races in East Mississippi. The Great Scorpion Trail Run in Meridian, MS in early January, the Witch Dance Ultra Trail Run held in May and in October, and the Ivy Trek Ultra at Clarkco State Park in Quitman, MS in September. Giving you 4 opportunities to run some of the best trails the Magnolia State has to offer. To learn more about each event and to sign up, click below.

Next Race Date: January 8th, 2022
Where: Bonita Lakes Park - Meridian, MS
Information: 2022 will be the 5th year for this highly successful race that raises money for people stricken with Alopecia Areata. Camping isn't allowed, but there are plenty of places to find a room in Meridian near the race including the official race hotel, Hilton Garden Inn where packet pickup is held each year.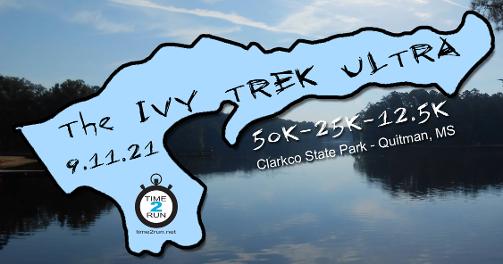 Next Race Date: September 11th, 2021
Where: Clarkco State Park - Quitman, MS

Information: 2021 will be the first year for a race that is already promising to rival it's big brother Scorpion. Set in the picturesque setting of one of Mississippi's beautiful state parks, the trails are wide and rolling experience that will have you wanting more. Camping is available but you'll need to book your cabin, pad or primitive site early as this race promises to be an instant hit.
Next Race Date:
Oct 23rd, 2021 (also held in May)
Where: Stinkin Jim's Campground - Houston, MS

Information: Witch Dance is a unique race that begins and ends at a place equally interesting. Stinkin Jims Campground sits along side the Natchez Trace in Houston, Mississippi and showcases a trail system that has been years in the making. Camping is available but you need to call early to book your stay. This race also features a 5K and 10K so bring the family and come run the Witch Dance!
Copyright Time 2 Run Race Timing